The following scholarships are eligible for F-1 International Students. Students must first gain admission and send final official transcripts from the issuing institution prior to being awarded scholarship funds. Apply here for admission if you have not done so already.
Starting in Fall 2022, BHSU's Scholarships of Distinction program will award merit scholarships of up to $4,000 per year to new qualifying students, while funds are available. Scholarships of Distinction are based on unweighted high school GPA, ACT/SAT scores*, or a combination of the two. Although there is no deadline or separate application required for this award, students should apply for admission to BHSU prior to February 1 for full consideration. Students who apply for admission after February 1 will be considered on a funds available basis.
These scholarships are available to new first-time students who have not previously attended any other college or university. Official academic credentials will be used to determine award amounts. If academic credentials improve, students may contact the BHSU Admissions Office to request that their scholarship file be re-evaluated. Increased awards may occur if funds are available, but are never guaranteed once an initial scholarship amount has been awarded.
*TEST SCORE INFORMATIONACT or SAT scores used for scholarship consideration must be completed during high school or during the summer immediately following high school graduation. For students starting in the fall semester, scores must be received by BHSU by August 1, prior to fall classes starting, to qualify for consideration for scholarship awards. For students starting in the spring semester, scores must be received by BHSU by December 1, prior to spring classes starting.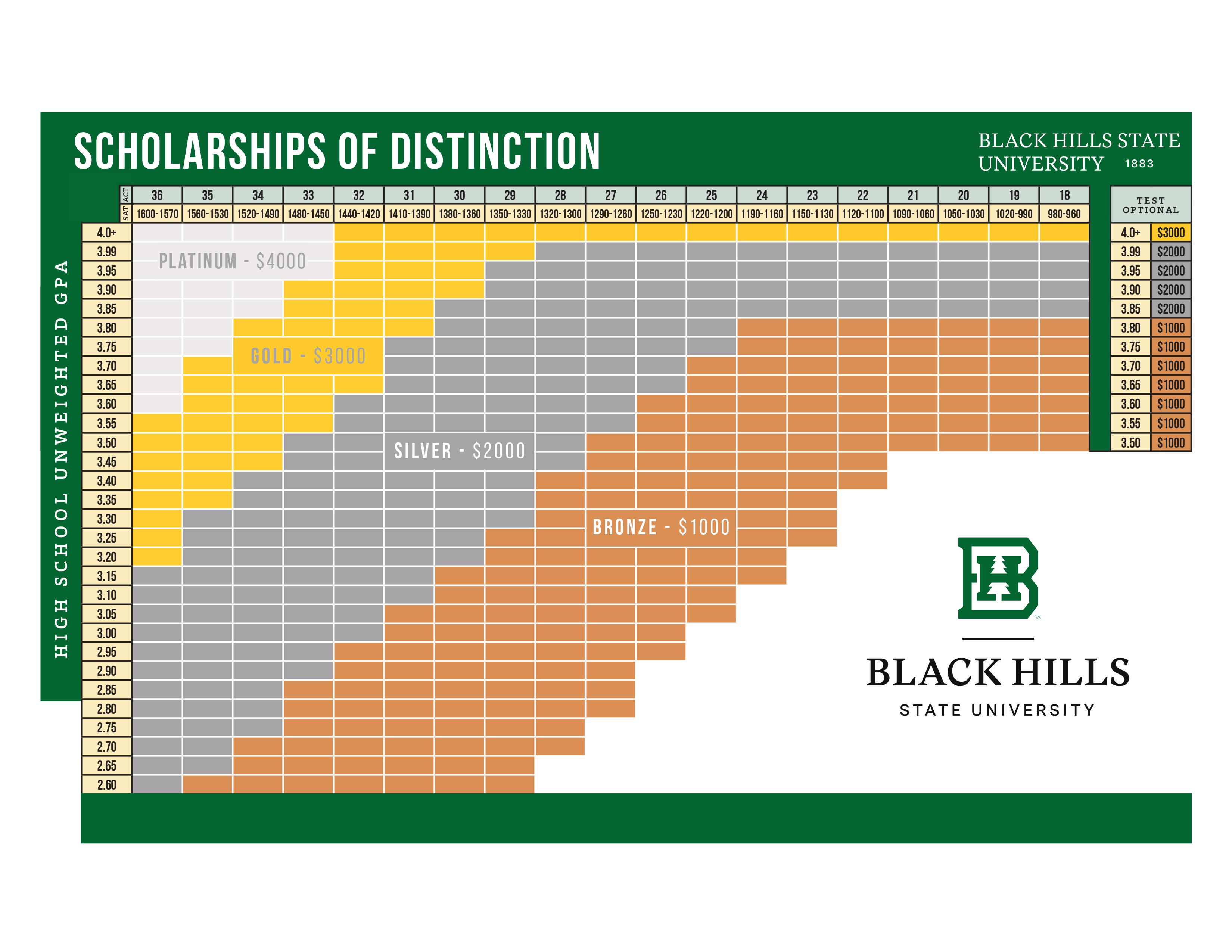 SCHOLARSHIP_OF_DISTINCTION.PDF
for up to a maximum of four years, if students maintain a cumulative college GPA of 3.0, complete 30 credit hours of BHSU coursework each academic year, and maintain satisfactory academic progress.
Scholarships of Distinction amounts represent a scholarship pledge to qualifying students and may be funded by individual scholarships that are made possible through the generosity of BHSU Foundation donors and/or other institutional aid. Individual funding sources that fulfill the Scholarships of Distinction program may vary by name. For example, you may see the Green & Gold Scholarship, Jane Doe Memorial Scholarship, etc. listed to fulfill the overall Scholarship of Distinction amount. Scholarships of Distinction are available