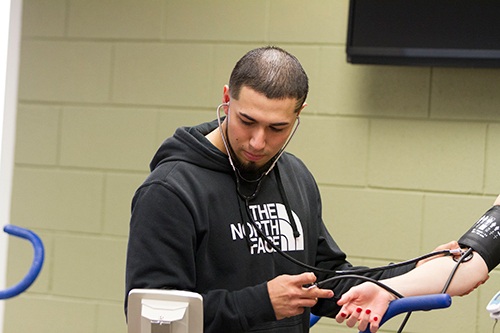 There are many career options that await you after completing this program. Some of our graduates' careers:
SCIENCE TRACT CAREERS
Chiropractor
Athletic Trainer
Worksite Wellness Coordinator
Physician
Physician Assistant
Exercise Physiologist Researcher
Exercise Specialist with Cardiac Rehabilitation
Physical Therapy
Occupational Therapy
Nursing
Massage Therapy
Diabetes Education
Strength and Conditioning Coach
MANAGEMENT TRACT CAREERS
Group Fitness Instructor
Recreation Director
Personal Trainer
Entrepreneur
Small Business Owner
Gym Director
---
Your employment opportunities depend on what you do while you are here.  All of our students who have a 3.5 or better get into graduate school and we offer 100% placement for those students who achieve national certification in the area of Personal Training. To learn more about the national certifications in this area of study visit www.acsm.org
If you are interested in graduate school, we will spend considerable time working with you.  Our graduates who have attended graduate schools across the country are always willing to talk to our current students and offer advice, and we explore the many options that are available for our students.
---
GRADUATE SCHOOLS
University of South Dakota Medical School
Northwestern Health Sciences University
Idaho State University
University of Nevada Las Vegas
Midwestern University
University of Montana
University of South Dakota
University of Mary
University of St. Augustine for Health Sciences
University of Nebraska Medical Center
---
EXERCISE SCIENCE RELATED JOB POSTINGS

ACSM (American College of Sports Medicine)