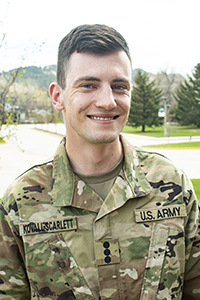 Jared Kovall-Scarlett
Name, major, and hometown?
My name is Jared Kovall-Scarlett. I'm from Rapid City, South Dakota. My major is Business Administration.

What have you been involved with on campus?
On campus I was involved in the Trap Shooting Club, history and cultural classes with international travel, and ROTC (Reserve Officer Training Corps). ROTC has been a huge part of my life here at BHSU: physical training three days a week, going to lab, doing different lanes/tactical exercises. It's really helped develop my leadership abilities, self-confidence, and provided a great opportunity for me to come to BHSU and start a career in the Army.

Tell me more about your international experiences during college.
I traveled on four different BHSU-led international trips and received course credit for each during college. The way I was able to pay for this was through my ROTC Scholarship. ROTC pays my tuition up to $9,999 each semester, and thanks to BHSU's tuition being low I was able to take a full load of 18-19 credits, also take the international classes and still be under that threshold. I'm graduating debt free.
The first place I went was on a service learning trip to Africa. We went on a safari, did a bike ride around Johannesburg, experienced the local life and culture, and then traveled to Gaborone, Botswana, where we taught three days in a secondary school.
After Africa I went to Italy for a food, culture and history class.
I then went to China over the summer. I took language and cultural classes at China Three Gorges University. I was in tears after that, I made many good friends from China, Korea, and Italy that summer.
Then in the fall, I went to the Philippines for another international service learning course.
Interacting with all these different cultures and people really expanded my worldview. Before I went to college I was more narrow-minded. Getting a new perspective on global issues and how others approach world issues really benefited me. Taking that into the Army – a multicultural and global organization, we have hundreds of military bases around the world – already having interactions with different cultures will give me a one-up over my colleagues.

Who is your favorite professor at BHSU?
All of them have contributed something to my education and I really appreciate every single professor for teaching me and helping develop me as a person. I especially appreciate Dr. Courtney Huse Wika. She was director of the University Honors Program and my advisor. I've taken many of her classes and went to Italy with her for a cultural class. I'll also give a shout-out to the cadre for ROTC: Captain Jeremy DeLoach and Nadim Antar. They've both developed me as a person and as a future Army Officer. Without them I would not be where I am today.

Tell me about your plans after graduation.
I'll be going into the active duty Army. I'll be stationed in Fort Drum, N.Y., and have a four-year commitment. In the Army I'll be a transportation officer – basically that's moving things: ammunition, water, fuel. Once I graduate on May 4 I'll go to Fort Lee in Virginia for 16 weeks to learn how to do my job. I'll be graduating without any debt and the military gave me a monthly stipend throughout school. My mom was in the National Guard, my dad was in the Air Force, my grandpa was in the Army. We have a long family history of serving our country and I will continue that tradition.

Tell me about a moment when you experienced growth during college.
In ROTC we have Field Training Exercises where BHSU, South Dakota School of Mines & Technology, and Chadron State College in Nebraska get together to do different tactical lanes. During that I was Platoon Sergeant and it really tested all I'd learned through ROTC and molded me into the leader I am today.

What will you miss about Black Hills State?
I've really enjoyed the sense of community with all the students at BHSU. I've made a lot of connections. The area is beautiful, the Black Hills, the small town community – I've found that really comforting. I was also 45 minutes away from my hometown which was also nice. I'll be going away here soon to the Army, a much different world.

What's your favorite memory at Black Hills State?
Going out in the Hills and hiking with friends. I remember my freshman year, everyone was so welcoming, I made a lot of friends that way – piling into a car, driving out into the Hills, and finding a place to hike. I'll miss that so much.

How has BHSU prepared you for your future?
I feel like Black Hills State has definitely prepared me for my future, although what I'm going into next will be a different environment. I feel like we have such a diverse student body and faculty. I've been able to experience different cultures despite being in small town South Dakota. I feel like that's really given me an advantage.